A computer is a logical electronic device design that performs high-speed mathematical or logical operations, correlates and processes information from data that is input, retrieved or processed.
All the physical parts of computer are called Hardware.
Input devices are used to give computer our instructions.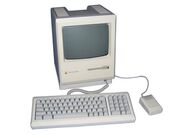 Mouse is the only device from which we can point and click to give instructions,It can also draw on the computer which any other device can't.
Output Devices are the devices from which we get results of the data we gave.
Storage Devices are the devices which can store the data inside them.
Software is an important part of the computer system,without it computer would be a dumb machine.
System software is the main software which loads data on the screen.
Application software is made to solve user's particular problems.
Community content is available under
CC-BY-SA
unless otherwise noted.